(Return To The Pattern Reviews Index)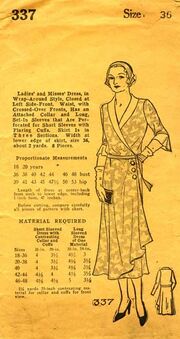 This dress was pattern was complete in it's pieces and the directions were also intact. There are no illustrations, but the text is easy to follow if you have an intermediate sewing experience. I needed to make alterations for my modern body. There is little to no ease in the armscye or sleeve and the skirt will be pretty short. I didn't add length on the shirt and needed to put in a 1/4 " hem to get the length shown (though I am 5'9"). I also took out the gathers on the bodice which tended to make me look very wide and add darts for shaping in the back and moved the ones in the front. The front flounce of the skirt was changed to three sewn down pleats, as I used a cotton which didn't have much drape. I also changed the collar to have bound scallops instead of a straight edge. The wrap neckline was too low for my taste, so I added an inset. The sleeves were and odd length on my body, so I shortened those to suit my taste. Over all I really like this dress and wear it as an everyday dress in the summer.
To View Details Of This Pattern Go Here!
To See A Photo Of This Garment Go Here!
Return to The Vintage Pattern Lending Library Wiki Home Page